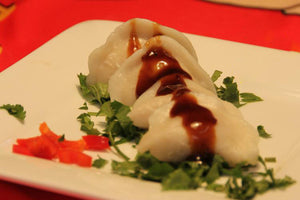 Buy hot chicken dumplings. Banish hungry bellies.
Wun Hung Lo's dumplings are the tastiest morsels you'll put in your mouth.

Hot dumplings with a thin wheat-based dough wrapper enveloping well-balanced juicy balls of plump prawns, moist meats, and hand-selected premium veggies
Ingredients
Our Chicken Dumplings are 97% fat-free!
Chicken Mince (34%), White Flour, Cabbage, Water, Sugar, Salt, Spring Onion, Tapioca Starch, Gluten, Ginger, Sesame Oil, Vegetable Booster, Chilli, Black Pepper.
Contains Wheat, Soybean, Sesame Seeds, Gluten.